Miss Thelma danced her way to Heaven on August 25, 2015.
This website remains online as a tribute to her.
Please remember her fondly as you browse.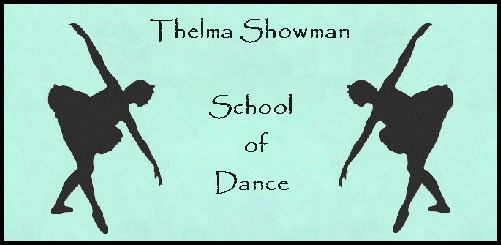 SUMMER BALLET CLASSES FORMING NOW!
Miss Thelma focuses on helping her students "become professional dancers by understanding the theory of why those moves are being made and how best to present them to an audience."
In the past, her students have covered a wide range of ages. Some were very, very young and some were grandparents, proving Miss Thelma's belief that, "You're never too old to learn to dance."
Miss Thelma has taught multiple generations of many families, over the years. Because so many of Miss Thelma's students continue under her guidance, they also enjoy having familiar faces in their classes, which makes learning and entertaining together much more fun. See for yourself!
Tap Dance and Classical Ballet Classes
Miss Thelma offers private and group classes for adults.
Her students generally perform about 3- 4 times per year.
Call or write for current rates and class information.
[Home] [History] [Photos] [Links] [Contact Us]
Background and other images created exclusively for this site by JesPiddlin.