Genealogy Research Ideas


Click on the links below to see the specific information you are interested in, or read the page all the way down. Print at will. *G*
Courthouse Records
Genealogical Societies
Libraries
Newspapers
People
Social Security
Proof
Document Care
Making Copies
Also, be sure to check out the Helpful Genealogy Links page.


Documents You Can Find At The Courthouse

Many very helpful records can be found at the county courthouses. If you aren't sure where to go, or how to do your research, ask someone. Most of the people behind the counters and desks are very helpful.

Examples of records that might be found at county courthouses are: Property deeds, marriage licenses, divorce records, wills (require witnesses and list WHO receives what), probate records (lists survivors/heirs), lawsuits by or against the person you are seeking, etc.. Often, the persons may be listed as witnesses to marriages, or in other court cases

Back to the Index



Historical and Genealogical Societies

Check with the society for the area you are researching. They usually have a great selection of info, such as: books on the history of the area (and often other areas), marriage records, cemetery records, property deed info, census information, war records, donated collections of research materials and genealogies, etc..

Very often, the county and/or the society can be found online. Many of them are very helpful. I encourage joining the societies which might be helpful to your research, as members receive regular newsletters with info on the history of the area, and can often receive discounts on materials purchased from the society. Also, queries can usually be posted in the newsletters.

* Notes:
- - You don't have to be a resident of the area to join a society.
- - Don't overlook your local society. They usually have information on other states and counties.

Back to the Index



At the Library

Check with your local library system to see if they have a genealogical section/room. Whether they do or not, they can often get materials from other libraries on a "loan" or "share" basis.

Records and/or books which can often be found in a library: Census records, Native American records, marriages, cemetery listings, historical/genealogical society issues, Goodspeed's books, helpful maps of times past, surname genealogies, etc..

Back to the Index



Newspapers

Find out what newspapers were being published in the areas and dates you are researching. Also, determine what newspapers were being published in the areas your family moved from before that. Many newspapers printed updates on folks who had moved away, announced a move, or announced a visit to family living elsewhere.

What can you find in newspapers? Birth notices, obituaries (often listing burial location, survivors and their locations, and died before them), advertising for your family's businesses, local happenings, legal notices, etc.. Newspaper info can make your ancestors "come alive" for you.

When collecting newspaper articles for your records, make sure each "clipping" has the newspaper name, date and page number, and the city and state it was issued in, written on it. It is very little help to anyone, if they don't know at least the date and location of the paper it was printed in.

Back to the Index



People

Interview the elders of your family whenever possible. They can be the most informative source you have. Ask for info on them -

* birth date
* marriage date
* locations
* military branch and dates
* When and where did they move during their lifetime?
* What games/sports did they play as a child/adult and who played with them?
* Did they ever travel? When? Where?
* Did they travel to visit family? Who? When? Where?
* How did they travel? What kind of vehicle did they use, or were they on foot?
* What kind of jobs did they have? When? Where?
* How much money did they make?
* Who do they remember (and what dates and places) in the family tree?

If they remember something about an ancestor, but don't seem to remember a time period, ask what they remember around the same time - work with them and you may be able to come up with at least a general time period.

How can all these answers help you? They will give you stories to keep and dates and places to look for proof of certain events. Make LOTS of notes!!

Remember that memories can be distorted or just plain wrong, so whenever possible, get documented proof for your own records.

Back to the Index



Social Security Death Index (SSDI)

If your ancestor died in the mid-1900's or later, be sure to check the Social Security Death Index listings. If you are fairly certain you have found your ancestor, you can have someone look up their obituary, to be sure, and/or send off for a copy of the Social Security application, which usually contains such information as: date of birth, place of birth, parents' names, and sometimes more. (There is a fee to get a copy of the application.)

Back to the Index



How Important is Proof?

Proof is a VERY important part of your research. If someone says your great-great grandma was a nurse, try to find proof of it. Maybe her obituary or death certificate will say so. Or, maybe it was someone else's great-great grandma with the same name, in the same area. Find proof of every birth, death, marriage, etc., that you can.

Always remember that many websites, genealogy CD's for sale, and other resources, contain a lot of incorrect information. Many times someone found something close and assumed it was the same person. Many times, they did not search for "proof". Also, they may have received incorrect information from someone else who didn't prove their work.

Always be on the look-out for your own proof.

Back to the Index



Keeping Your Documents and Photos Safe

Organizing anything "genealogical" can sometimes seem impossible. Here are some ideas that have worked for me.

I keep all the items below in a notebook. I keep them divided by subject, not persons.

birth certificates, death certificates, school records, marriage licenses, divorce records, Bible records, lawsuit records, property deeds, wills, probate records, newspaper clippings, announcement cards (birth, marriage, anniversary, graduation, etc.), social security applications, military records.

I also keep my documents inside clear, heavy-duty, vinyl slips. Always keep your documents inside these slips - even for making copies. If your slips are the clear kind, the copies should be just as good and your documents will fare better from actually being handled less.

Back to the Index



Making Copies of Photos, Etc.

Whenever possible, get reprints of photos. Another good way to preserve photos is by getting color copies at your local print shop. Always get color copies made of black and white photos, as well as for color photos. Try it sometime and you will see why. The quality difference is definitely worth the price difference!

NOTE: Making color copies from color copies doesn't work too well, so I get extra copies of the original photos, when I think someone else might want some.

Always return original items to their proper owner in the same condition they were borrowed.

Back to the Index



Check out these great family history items!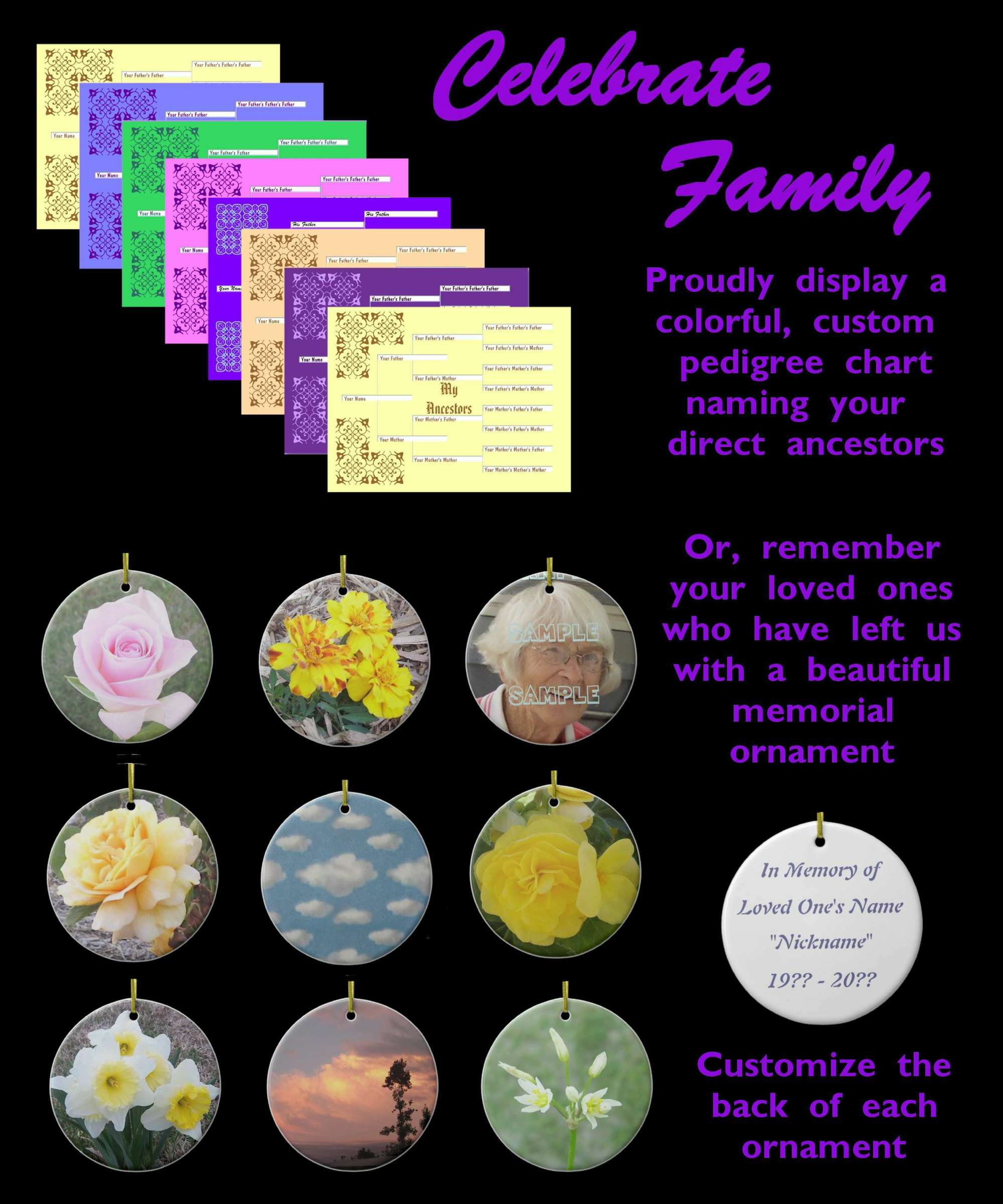 Make a personalized gift at Zazzle.

Back to the Index


Don't forget to visit the Helpful Genealogy Links page!



Back to the main page


Graphics,backgrounds and text on this site were created by JesPiddlin - copyright 1998 and forward